SOS TITANICK
+++ Theater Titanick has hit the Corona iceberg +++ Mayday Mayday +++ We need your support +++
read more
We have set up the SOS Titanick project and are sending this call for help around the world. Support us now by buying Bonus Tickets.
From
10,00 Euro
3rd class
Bonus Ticket
Our thank-you: a glass of sparkling wine or juice when you come to see "TITANIC" in 2021.
From
50,00 Euro
2nd class
Bonus Ticket
Our thank-you: you will receive a Titanick T-Shirt or a Theater Titanick book when you come to see "TITANIC" in 2021.
From
500,00 Euro
1st class
Bonus Ticket
Our thank-you: You will be invited to a Captain's Dinner at the end of the "TITANIC" show in 2021.
No Pay Pal? Bonus Tickets can paid for by bank transfer:
Theater Titanick
IBAN: DE51 4005 0150 0034 4232 77
BIC: WELADED1MST
Sparkasse Münsterland Ost
As soon as we have received your payment we will send the Bonus Ticket to you by post. Any questions? Send us an email or call us on +49 251 284 1101
Of course you can support Theater Titanick by simply sending an amount of your choice.
* Seven performances of our classic TITANIC are being planned for 2021 in the Gasometer in Münster, Germany. We will inform you of the dates well in advance. A Bonus Ticket does not replace the regular entrance ticket for the show.

The design of the Bonus Tickets is based on the original ticket for entry to the Launch of the Titanic in May 2011 (see below) printed in the special letterpress printing method with perforation by Letterwish in Münster.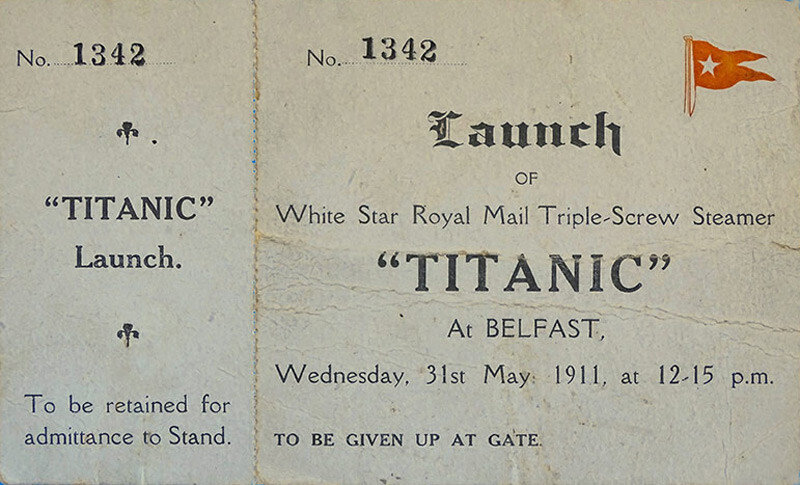 For 30 years Theater Titanick has been renowned for its spectacular productions that have fascinated millions of people regardless of their cultural background. The ensemble creates scenes and images that are unique and unforgettable.
Not only in Germany but all over the world: Theater Titanick has presented more than 1000 performances in 28 countries; in Asia, Australia, Europe, North, Central and South America.
The Coronavirus pandemic has hit the cultural sector hard. Concerts, sports and other open air events have all been brought to a halt. And all that at the beginning of our tournee season that starts in April and goes through to September with a full calendar of performances in Germany and internationally. In this period we would normally have earned 80 % of the budget we need in order to exist. The tournee has been 100 % cancelled and big format events will not be permitted for a long time to come.
We had grandiose plans for our 30th anniversary in 2020 with the project "Classic meets New Generation": our classic production TITANIC in the Gasometer in Münster and on the old trade fair grounds in Leipzig and our latest production TRIP OVER also in Münster and Leipzig, Germany
These projects are on hold but we will make them happen at some time. Not in summer 2020 but in the tournee season in 2021. That's the good news.
Until then our most important job is: SURVIVAL. The costs for our infrastructure with the stage sets and equipment for our numerous productions, the rent for our work space and office and our team – reduced to a minimum at the moment – are still considerable. And that's where you come onto the scene.
We receive a lot of mails and messages on social media: "Please don't give up!", "We need you more than ever!", "You must go on!" That's an enormous encouragement and it is good to know that we have so many friends, fans and supporters all over the world.